On a torrid Sunday afternoon in a suburb of Chennai, spectators -- mostly families with young children -- start to trickle in to catch the first show of the day. Finishing his lunch, K Chakravarthy, 49 asks one of the boys to start the generator.
Within minutes, the two towering loudspeakers inside the big top come alive with regional music. The boys get ready while Chakravarthy and his wife, C Reena, prep in their spacious tent along with two recent female recruits.
Chakravarthy seems calm and composed, as is always the case, but today he'll have to be on his toes from the get-go. He'll be filling in for some of his missing crew who are out of town visiting their families. It's almost show time and the music stops abruptly. From behind the stage Chakravarthy, adorned in a velvety, glittering outfit, announces the opening act – the lasso artist – in a husky, booming ringmaster voice. A minute later, he enters the arena accompanied by a rousing dance number.
‍
‍
‍
Chakravarthy comes from a Tamil Nadu village called Pakkampalayam. When he was about seven or eight, he saw his first-ever circus show, Bharat Circus. Little did he know back then that those three eventful hours would set the stage for his own career in the industry.
When he was 10, Chakravarthy was angered by the birth of a step-sibling (his father had remarried after his mother's death). Resenting the newest addition of their family, he ran away from home to the booming city of Bangalore, with a plan to move in with his aunt.
He left home with Rs 5 in his pocket – the price of his bus fare.
After reaching the city, he realized he had no idea where his aunt lived. With not a paisa in his pocket, he loitered about the streets for a week before someone approached him and asked if he had a job. He was hired as a busboy in a restaurant and paid Rs 30 a month. Within nine months, he managed to save about Rs 300.
When one of his colleagues at the restaurant decided to leave his job in search of greener pastures, he asked Chakravarthy if he'd like to join him. Within hours, the two kids were on a train, travelling to Hassan in Karnataka. Upon arriving at their destination, young Chakravarthy's friend disappeared. This is when he realized he had been robbed. He then approached the railway station canteen owner and told him of his predicament. The sympathetic owner gave him a menial job at the canteen.
A month and a half later, a huge and peculiar train chugged to a halt at the station. Chakravarthy was transfixed by what was in front of him: around 40 cars filled to the brim with men, women, exotic animals and circus paraphernalia. The scene brought back vivid memories of the circus he had seen in his hometown.
As the circus performers snacked at the canteen, he asked to join them but was told he was too young. But a determined Chakravarthy knew that this was the life he wanted, and so he eventually approached another circus -- Geeta Circus -- in a nearby town, where he was hired him to run errands in the kitchen.
Within a year, he started training with the troupe and participating in group acts before progressing onto solo acts.
That was over 30 years ago. Chakravarthy has since hopped from one circus to another, rising through the ranks all the while – but his journey has not been without its bumps.
‍
‍
‍
In many ways Chakravarthy is the antithesis to the ostentatious showman typically associated with the circus. He is tanned, slightly built, and possesses a weather-beaten face -- all byproducts of his labouring under the big top for 30-odd years. But cometh the hour, cometh the man.
When the show starts, Chakravarthy metamorphoses into the proverbial butterfly and enraptures audiences with his deftness and daredevilry in the ring.
Chakravarthy founded Reena National Circus last August with only Reena, 36, by his side. They had both been star performers at the Global Circus, and it appeared that they had everything going for them.
On November 13, 2013, the two were in the middle of an aerial ring act, ascending right to the top when the rope that held the ring snapped.
Chakravarthy bore the brunt of the 20-foot drop and spent the next three months in the hospital with a pelvic fracture. When he got back on his feet after six months, things just weren't the same. He was given menial jobs at the circus and no longer wielded the influence he had before his accident. Unable to tolerate the second-rate treatment, he quit Global Circus.
‍
‍
Devastated but determined to prove a point, he used up his savings and the couple's settlement fees from the owners of Global Circus to start his own circus.
The couple put together Reena National Circus from scratch. They bought material, sewed the tents, embellished their outfits, recruited performers, purchased garb and accessories for their acts, and trained the new performers – all within in a span of three months, while tallying up losses to the tune of Rs 2 lakh.
‍
Reena and Chakravarthy got hitched in 2012, but they go way back – they were good friends before they fell in love. Chakravarthy's first marriage was tumultuous; he and his ex-wife separated over ten years ago, while Reena's first husband, a trapeze artist, fell to his death about eight years ago.
Reena, who is of Nepalese origin, was barely five when she compelled her parents to let her join the circus that had come to her town, lured by the prospect of "wearing fancy clothes". They agreed, and that was the last she ever saw of them.
‍
‍
‍
She says she doesn't remember what her parents look like, their names, or even where they live. She doesn't know life beyond the circus gates. Chakravarthy and Sani, her 16-year-old son from her first marriage, are the only family she has, she says.
Sani is a competent performer and part of two ensemble acts in the circus, as an acrobat and a clown.
‍
‍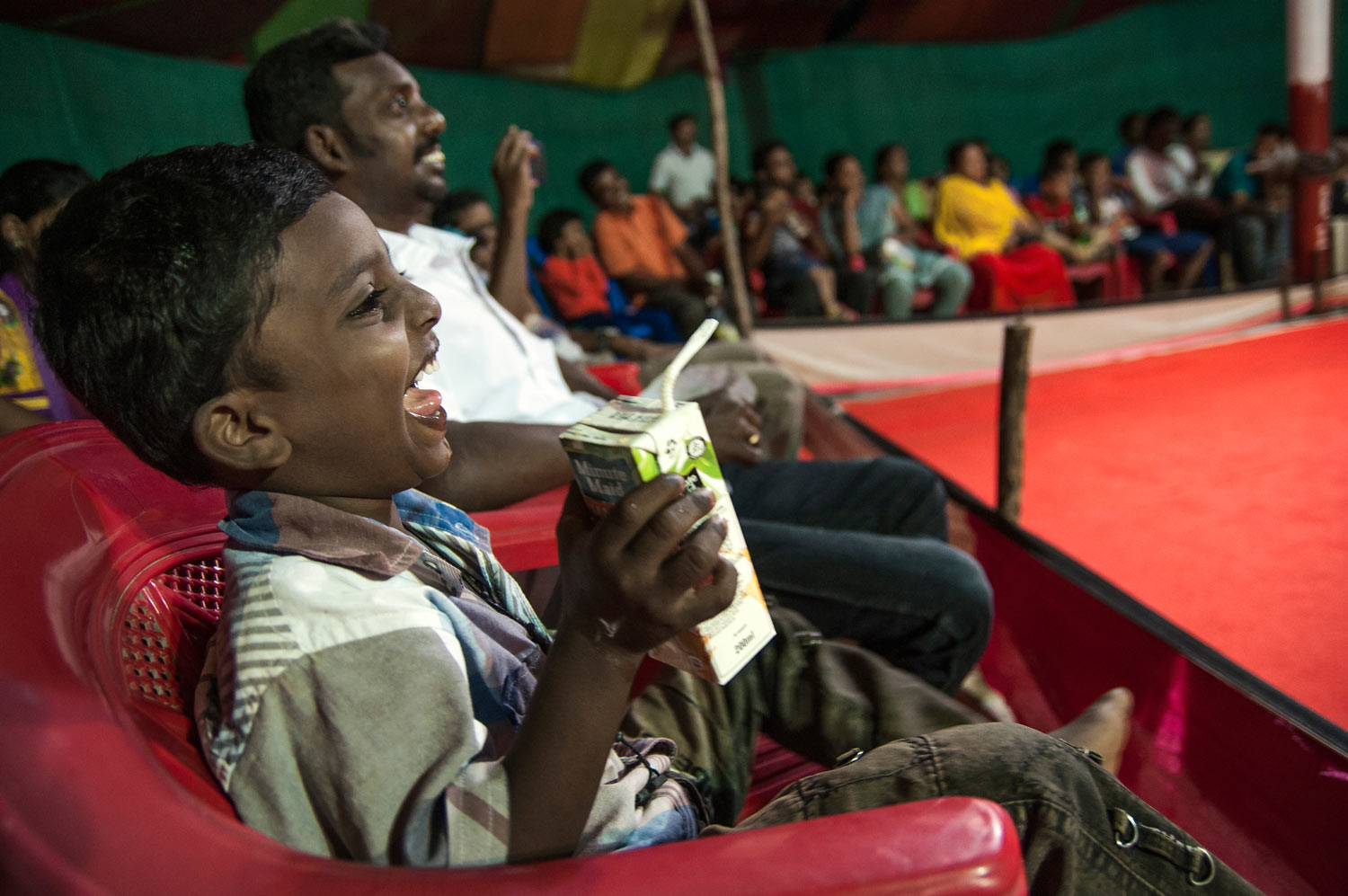 ‍
Recently, they said, they were taken for a ride by a contractor. Several performers have deserted them over time, and yet, they say they are hopeful of a reversal of their fortunes.
"I don't want to mint millions," Chakravarthy says. "[Just] a modest circus with a disciplined ten-member crew, [one that has] acts on par with international standards, and love and appreciation from one and all."
Reena nods in approval.
‍
---
A version of this story first appeared in Narratively.